Electrics for Sale
Check back here for some killer deals on vintage and custom guitars and basses.
We are currently working on some very Custom telecaster type guitars, that will feature both vintage and modern parts.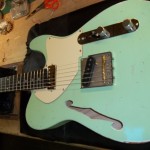 One of BC's busiest tribute acts, Live Rust covers songs from Mr. Young's 40-year career (and still going) and leave even the biggest Neil Young fans' jaws opened at just how close they come to not only his Instantly recognizable vocals but the unbridled guitar style Neil is renowned for. Young's Guitar is almost as famous as the artist himself when it comes to his fans and Mr. Potter went to get lengths to re-create that incredible guitar. In fact, he has two! His main guitar being re-created by himself and the second built by Surrey's Guitar Tech Extraordinaire Steve Finley (http://www.theguitarrepaircentre.ca/) A Gibson Les Paul that Neil named "Old Black" has been completely "copied" right down to every last scratch…and the Sound is as close as you will ever come without actually seeing and hearing Neil himself.